A unique and attractive shopping environment with indoor LED screens
Let's be honest here, the Retail sector had a hard time during and after the COVID pandemic. Many stores had to close their doors during lockdowns, and those that remained open had to adapt to new standards and regulations that were anything but profitable. A logical consequence was an extreme shift to online shopping that still continues today. Stores must try even harder to attract customers to the shop and make their experience as pleasant as possible. INNO does this by creating a unique and engaging shopping environment, providing personalized service and integrating technology into the shopping experience. Digitopia was selected to future-proof two branches in Brussels, including the flagship store on rue Neuve.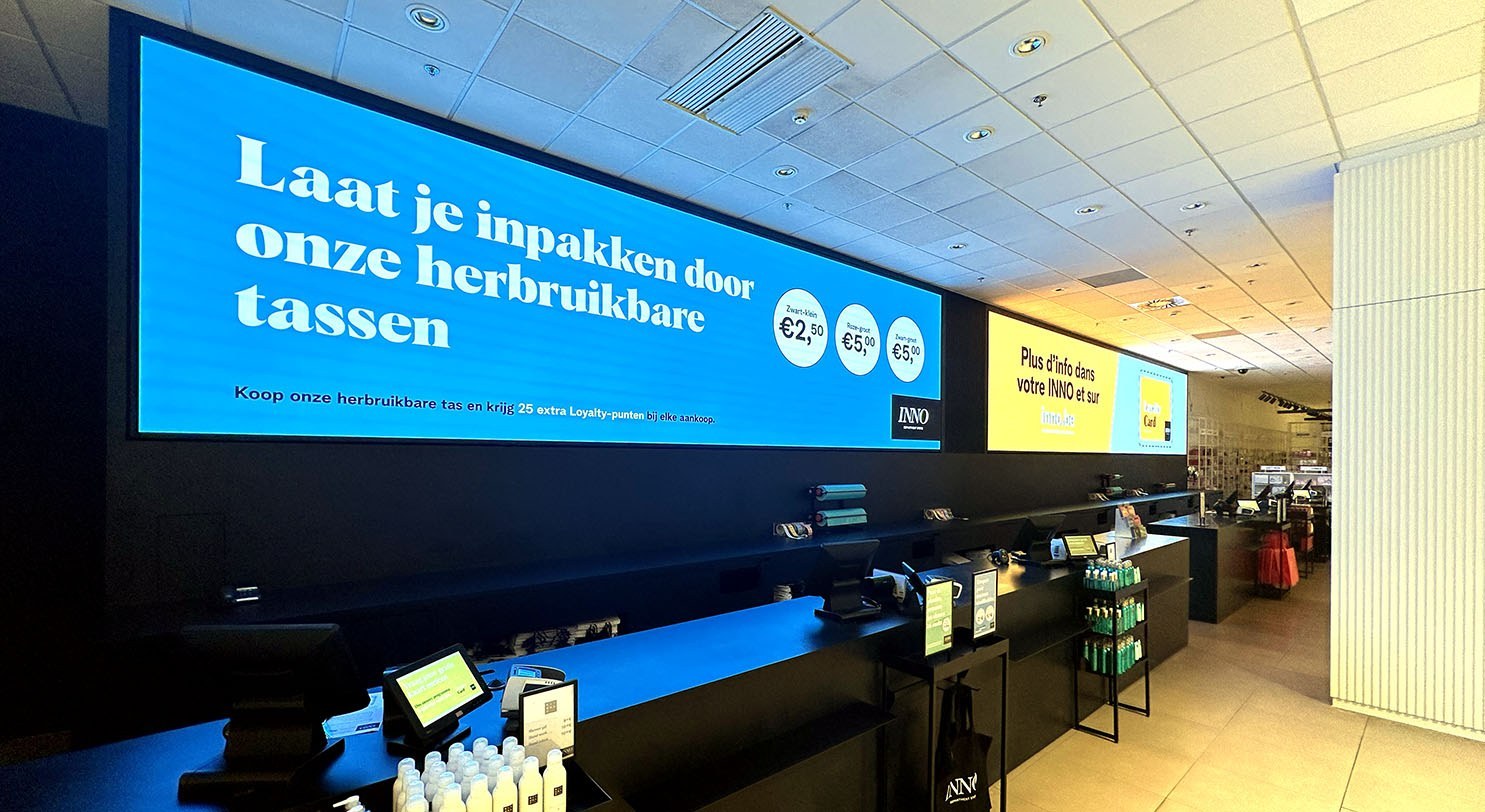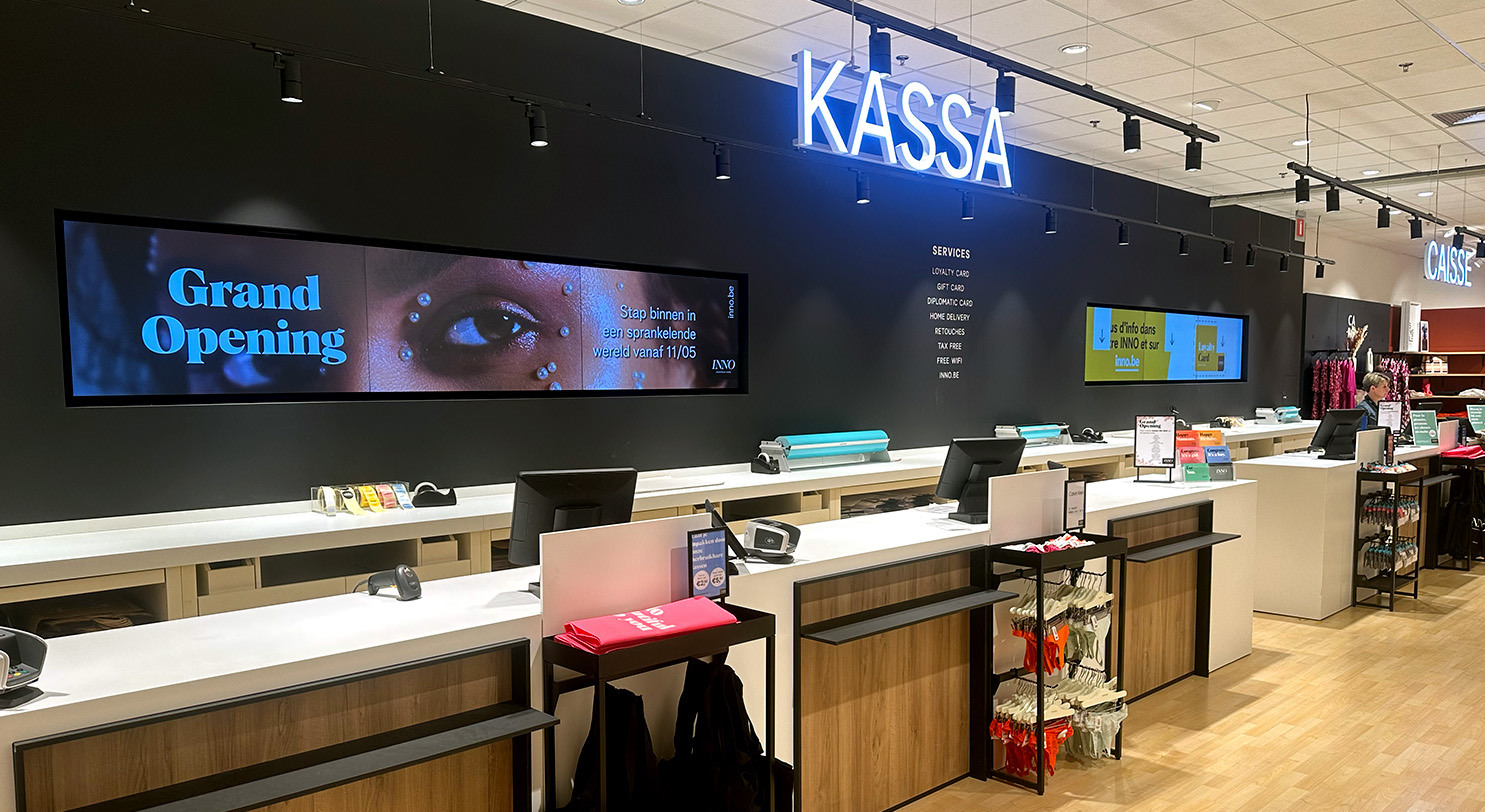 Getting creative with indoor LED displays
Technology such as digital signage and large indoor LED screens have the potential to significantly enhance and streamline the shopping experience. It also makes it memorable. It allows chains like INNO to creatively differentiate themselves from their competitors.

Each screen fulfills a specific role
Stuffing your store jam-packed with digital screens (obviously) does not solve all challenges. The story, the campaigns and the interpretation of all those displays require craftsmanship. INNO's digital signage points have different purposes and scenarios depending on where we installed them:
Enhance INNO's branding
Display seasonal collections
Provide in-store navigation
Clarify promotions
Offer interaction
Make waiting more pleasant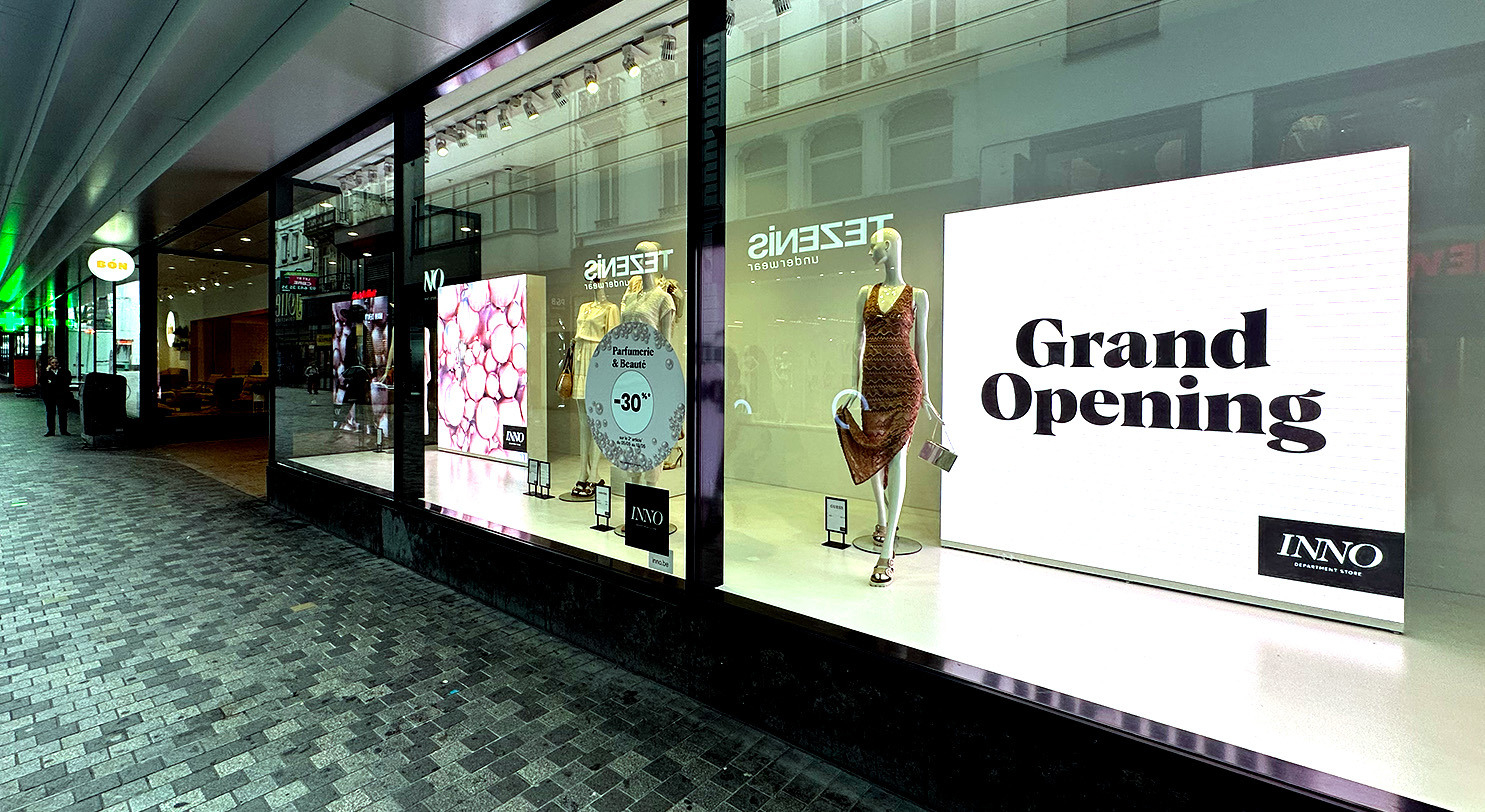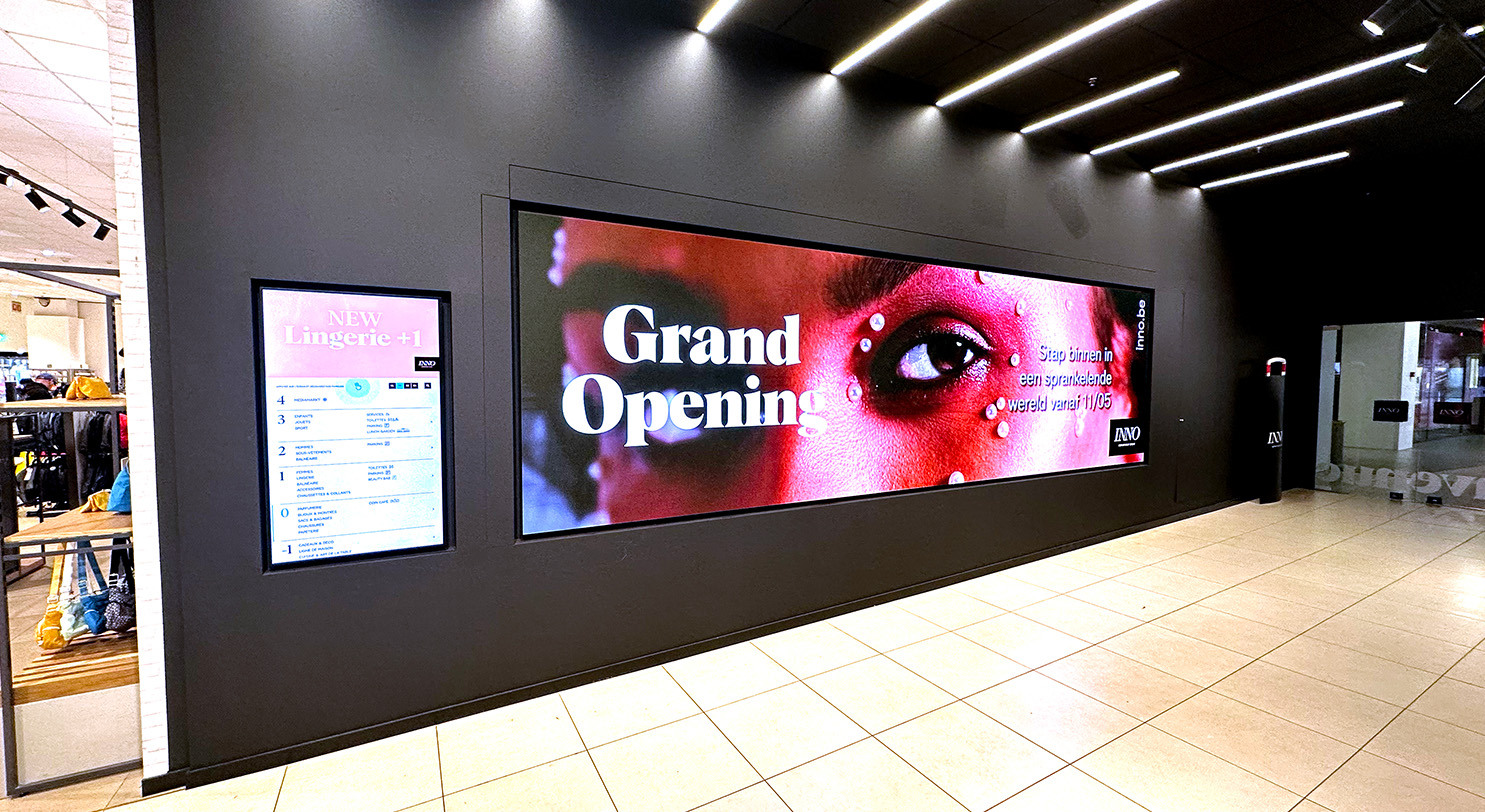 Immersive content
Digitopia's graphics studio handles the content on the digital screens at Inno. This plays an important role in enhancing the shopping experience. Content helps customers orient themselves in the store, it creates atmosphere and it provides additional information about products and services.
Grand opening
Our design team was thrilled to contribute to the official opening. We don't run campaigns on this scale every day, however, because of the excellent communication with INNO's marketing and VM team, everything is running smoothly.
Control and management with Centoview CMS
The common thread in the upgrade of INNO's display communications is the digital signage platform. Both our designers and INNO's marketing team can quickly, easily and reliably create, validate and schedule content through our homegrown digital signage software.

Flexible content management systeem
Centoview has no limitations on resolution, making exotic formats relatively easy to control. From 10 meter high vertical screens to bundled indoorLED walls ... Centoview has you covered.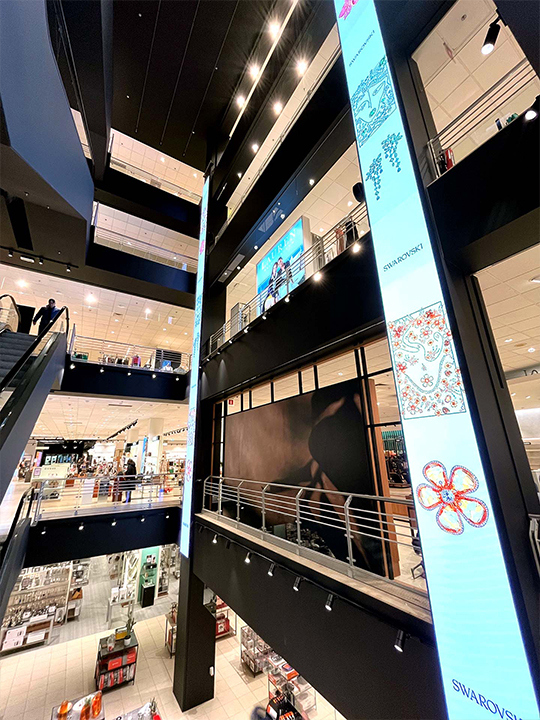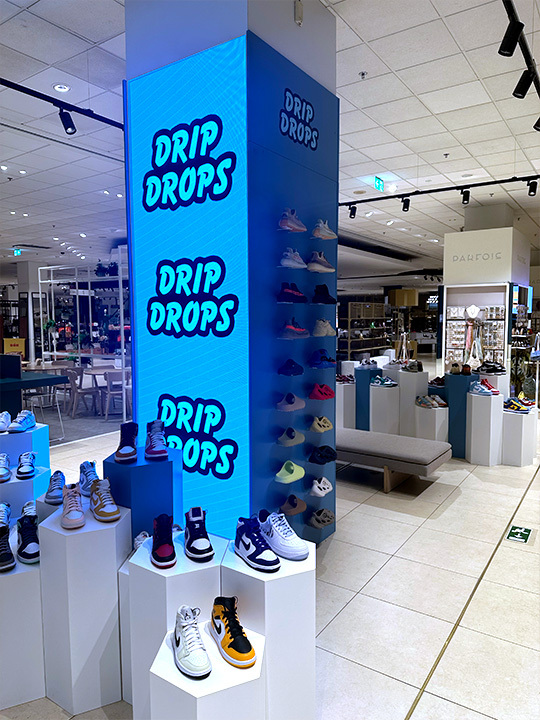 Interactivity without an external player
You can find more than 15 interactive kiosks spread over Rue Neuve and Avenue Louise. We managed to offer a very smooth experience with the built-in SOC of the screen. Also valuable for INNO (and ourselves) is the feedback and statistics you get back from the CMS. For example, which actions or product categories are hot? What happens during peak times at the escalators? Or are there departments that do need some extra focus? Via a handy and readable report, store managers can adjust and tweak where necessary based on concrete data from Centoview.
Discover more interactive solutions
Mutual trust
We would like to thank our contacts at INNO for the trust and confidence they have in Digitopia. This was a time-consuming project in our capital city. However, today we look back very enthusiastically on this prestige project. Take a look for yourself when shopping in the Nieuwstraat and Louisa, these are leading stores in Belgium that you really must experience.

Would you like a tour or additional explanation about this unique shopping experience? Get in touch so we can pay a visit together.