This perception was not new to us and we do get to hear it often. For a low monthly fee, you are up and running in no time and receive included support as well as tips for your content and templates. Over the years, we ourselves have seen Sedona grow tremendously in terms of content creation. That makes this case very interesting for other clients or smaller independents. Sedona is a multi-brand store for those looking for a wide choice in women's clothing. In the extensive assortment you will find a beautiful outfit for every occasion. You will find the Sedona store at Hopland 1 in Antwerp.

Content creativity and high ROI output
When creating content, you want to avoid spending time and energy creating media that people don't care about. At Sedona, meanwhile, they know that storytelling pays off, or in other words, telling your personal shopping story significantly helps persuade customers. As such, it is the most powerful way to stand out with your fashion retail business.
Very high ROI output
ROI today is a very measurable concept, our client knows perfectly what to do to drop certain stock by putting it in the picture with short video clips on the digital screens. Sedona has staff and customers model the clothing and simply record it. This media can then be immediately displayed on all social channels and digital screens.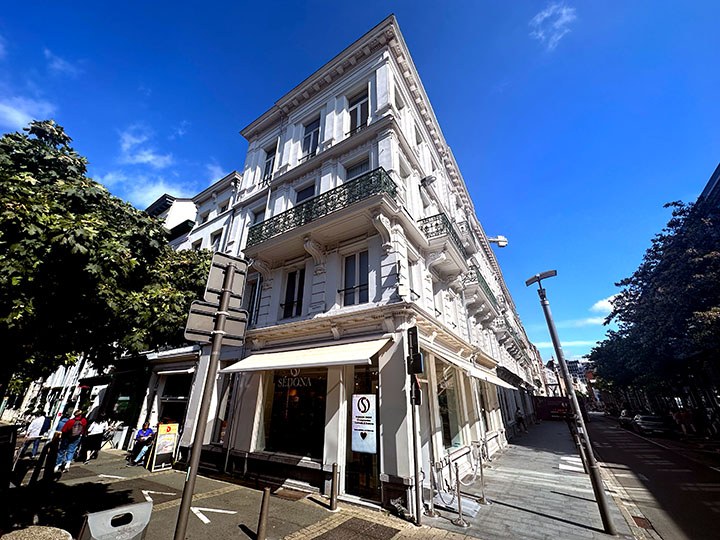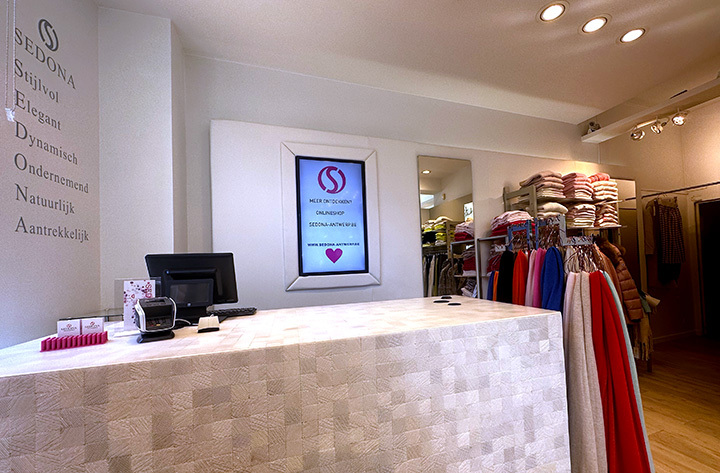 Consistent content creation & sharing
Implementing a good content marketing strategy is not a matter of writing the occasional blog post or scheduling a photo on your screens. Sedona built rapport with clients by constantly maintaining and improving content, but most importantly, consistently creating and distributing fresh media. Clients counted on Sedona to keep them up to date on new collections, trends and promos.
No content recycling
One could very easily schedule existing clips of the brands (they look great too, by the way), but then you create a certain distance from your audience. While shopping, it is immediately noticeable that the store staff themselves are constantly showing on the screens fashion and trends that are up for grabs in the store itself.
Sedona started 3 years ago with two digital screens and a CMS
Do you always need a dizzying number of screens to convince customers? No, this case is a blueprint where the small retail shop focuses on quality rather than quantity. The placement of the displays becomes decisive here. We work with 2 high brightness displays facing the street, supplemented with 1 display at the checkout.
Ultra high brightness window screens
When screens are in direct sunlight, we typically recommend LG ultra high brightness screens for a perfectly legible image at any time of day. For the orientation we opted for portrait, which remains a very rewarding format to show fashion, clothing and catwalks.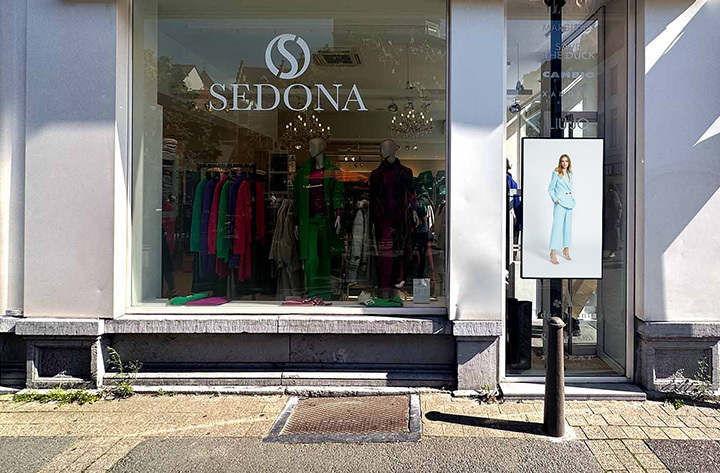 Interactivity with barcodes strengthens retail and shopping experience
With barcodes and QR codes in digital signage, you can create interactive experiences for your audience. Sedona is going to allow customers to scan product nearby their screens. We are currently starting with the jeans assortment. When a customer picks up a pair of pants and scans the code, the screen will automatically show related information such as prices, features and customer reviews. This makes the customer experience more pleasant and informative for the customer.
The importance of social media to strengthen your inbound marketing with screens
Digital screens can easily display pre-existing content you produce for socials. You can often copy these 1 to 1 but it only gets really interesting when your screens display a real follow-up story. Sedona uses all kinds of short clips on Instagram to tease. In the store, you will then find the full versions in a full-screen format.

We would like to thank Sedona for the trust placed in us and the dedication to work with digital marketing on a daily basis in this unique fashion specialty store.