Because technology and innovation never sleep... We closely follow developments in digital signage and hybrid working so you always get the best advice. Want to know what's new and what recent developments there are in the digital signage and smart office world? Then be sure to follow the hands-on inspiration sessions. In an informal atmosphere we will update you on the latest trends and newest references including two impressive INNO cases.

Inspiration sessions
Digital Signage, what's coming up and what's new in Centoview. As technology evolves, so does the desire to make everything faster, easier and more efficient, and that's no longer limited to content management. We'll talk you all the way through screen communications.
Innovation session, we do a round-up of digital concepts (s-Lim, BMW, Floorify, ...). The possibilities of interactivity offer a huge added value for your digital signage network and overall communication. We'll take you through some hands-on product demonstrations.
Hybrid working, we compare with you the most popular collaboration tools. After all, even the most progressive and innovative companies haven't quite figured out what works, and what doesn't. So be sure to join us for this collaboration session! We've also invited a special guest from the Logitech Videocollab team!
Smart office deep-dive, get to know workplace management, digital reception and room booking. People don't want to waste time on time-consuming things like searching for a workspace or meeting room. But when they do go to the office, they want to make sure they find a suitable spot. This and much more during this session.
INNO innovates, we go through this A to Z case in detail, be inspired by this amazing project in Brussels!
Timetable
We kick-off after lunch, you can choose which sessions you attend, it is not a problem to attend all of them. We favor interaction, so don't hesitate to ask questions during the session.
12u-13u Reception with lunch
13u Guided tour in our Experience Center
13u30 Inspiration sessions kick-off
16u Q&A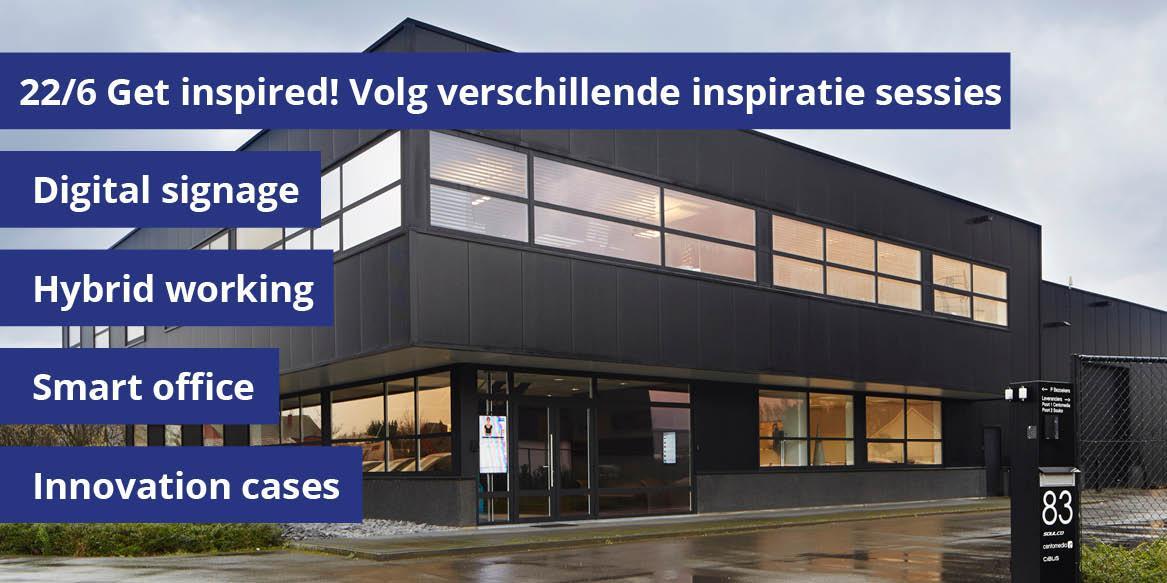 I'm joining!