Where are my colleagues today?
What if you need to speak to a specific colleague, but you're not sure what days they work and whether they're in the office or working remotely? The Week Planner solves this problem in a snap (or a few clicks). With this tool you not only indicate how and where you yourself work, but you also have an instant overview of where your colleagues are.
Working from home, consulting with clients, office day, illness, parental leave, ... everything transparent
The ultimate goal of the Week Planner is to give employees more insight into their colleagues' schedules to improve productivity and collaboration. What days are they working? Who is in the office, who is working remotely? What is the best day for me to go to the office? This gives everyone the ability to take control and plan their entire work week, regardless of where they work.
How to use it?
In addition to making a reservation for a desk, meeting room, space or parking space in the portal, it is now also possible to plan your week(s) ahead with the planner feature. Available in the Online Portal, the Mobile App and thus also within Microsoft Teams thanks to the Teams Integration. Easily indicate when you are in the office and when you work at home, or any other remote location. This is immediately visible to your colleagues. Collaboration, communication and focus on common goals are important factors for any successful team. This makes it easier to schedule face-to-face meetings in the office and not waste time figuring out exactly where everyone is working from.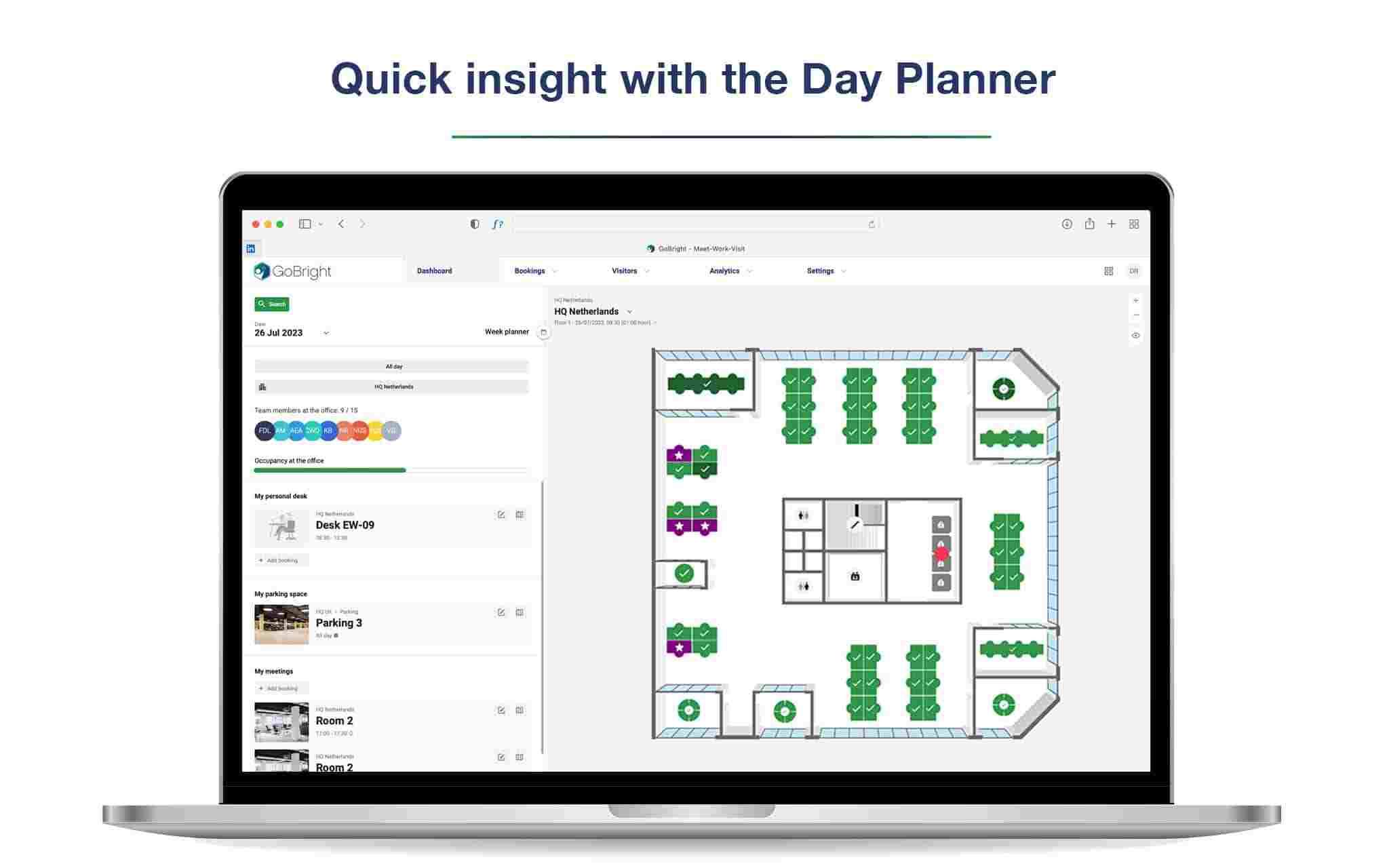 Overview of your occupation and locations
Overview of your occupation and locationsIdentify where you work per day using the predefined options (with icons). You can also indicate whether that applies to a whole day, or just the morning or afternoon. In this planner it is adhoc possible to "reserve" a desk for your office days. In the settings, you can set a "default" week in advance. Say you work from home every Monday and Friday, are in the office every Tuesday and Thursday, and have Wednesdays off. Then mark this as your default and it will be displayed automatically. The advantage is that you don't have to reschedule your workdays daily or weekly. If there is an exception, just adjust that specific day. At the bottom, you'll see a list of your team members. The icons indicate where they are on a daily basis.
Streamline your workplace communications with this tool
Once you know someone is working from home or elsewhere, you may want to contact them directly. Then simply use the phone number or email address listed in the app. Have questions, want a demo of the Weekly Planner, or want information on pricing? If so, be sure to get in touch.